The Numbers 3-10 and Gender
The numbers 3-10 use "opposite" gender endings than you would expect. In the masculine numbers (3-10), you will notice the characteristic "-ah" ending, but not so with the feminine numbers. Thus, masculine nouns are actually modified by numbers that appear feminine; and conversely, feminine nouns are modified by numbers that appear masculine. Note this is true only for the numbers 3-10; after this, they work as expected.

For example, since Hebrew months (and seasons) are masculine in gender, we have Tish'ah B'Av for Av 9.



Construct Forms
Each of these numbers has a construct form. Construct forms that are spelled differently than the normal forms are shown in parentheses. They are translated as "one of something," "two of something" and so on.



The Number 1
The number one follows the noun and agrees in gender, number, and definiteness with the noun it modifies:





Note that the construct form precedes noun:







The Numbers 2 through 10
These numbers may follow or precede noun (unless they are in contruct):





Note also that pronomial suffixes may be added to the construct form of the number:





Note: These numbers are sometimes classified as nouns in Biblical Hebrew grammars since they often do NOT agree in gender with the nouns they modify.



The Numbers 11 through 19
These are formed as a combination of a number with 10. Basically you add the construct form of the number to an altered form of number ten:





Examples: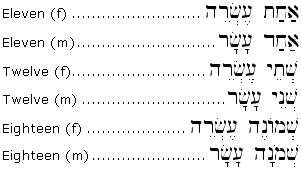 The Numbers 20 through 90
These numbers are basically plural forms of the regular (feminine) cardinal numbers.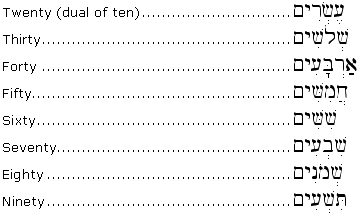 Note that the number 20 is the dual form of the (f) number 10.



The Numbers 21 through 99
These are formed by first using the larger number and then using the conjunction with the smaller number.







Cardinal Numbers from 100+
Here are common Hebrew numbers from 100 up: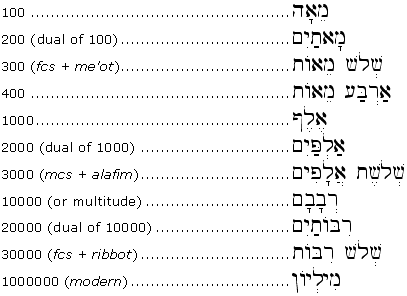 Note: The numbers 300-900 are formed by using the feminine numbers 3-9 in their construct state before the word me'ot, whereas the numbers 3000-9000 are formed by using the masculine numbers 3-9 in their construct state before the word alafim.




Section Exercises
Memorize the feminine and masculine numbers from 0 to 10.
Understand how to construct numbers from 11-99.
Memorize how to construct numbers from 100-90,000.
Understand how the numbers 3-10 work with different Hebrew nouns