This week's Torah portion (Balak) is named after a fearful Moabite king (בָּלָק) who sought to curse the Jewish people by hiring the services of a wicked Midianite "prophet" named Balaam (בִּלְעָם). King Balak's plan was to employ Balaam's sorcery (כַּשָׁפוּת) against the Israelites to prevent them from entering the Promised Land. Similar to the delicious irony that befell the villain Haman in the Book of Esther, however, King Balak's scheme was upended, and the curse he sought to put on the Jewish people was repeatedly pronounced as a blessing by Balaam instead. After several foiled attempts to curse the Israelites, Balak finally dismissed the prophet from his service, but before departing from the dejected king, Balaam ironically prophesied the destruction of the Moabites and the victorious establishment of Israel. The shameful story of Balaam reveals that "there is no enchantment against Jacob, no divination against Israel" (Num. 23:23). Ein od milvado (אֵין עוֹד מִלְבַדּו) - no weapon or scheme devised against God will ever prosper (Isa. 54:15-17).

But who was this mysterious prophet named Balaam? According to Jewish tradition, Jacob's wicked uncle Laban had a son named Beor (בְּעוֹר), who became the father of Balaam. In other words, the "cursing prophet" Balaam was none other than the grandson of Laban: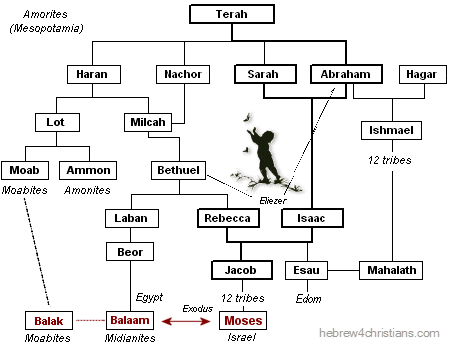 Note that the name "Beor" first appears in connection with a king of Edom (Gen. 36:32), which suggests that Balaam might have once been a king of the Edomites (i.e., the descendants of Esau). Further note the phonetic similarity to Peor. If Beor and Peor are the same, then Balaam was actually a prophet of Baal Peor, a local Semitic god.

Balaam was regarded as a great seer, magician and an adept in the occult. He had an "evil eye" and drew the spirit of demons to anything he gazed upon (Avot 5:22). His notoriety made him famous, and powerful people asked him to invoke curses on their enemies. The Talmud (Sanhedrin 106a) states that Balaam became so famous as a magician that he later became a chief advisor to Pharaoh. It was Balaam who advised the new Pharaoh to enslave the Israelites and to afflict them with brutal taskmasters (Exod. 1:8-11). For more information about the identity of Balaam, see the entry entitled, "The Curses of Balaam."