A relatively new custom in Judaism is the Brit Bat - or the "daughter's covenant," also sometimes called simchat bat ("rejoicing over a daughter") or Zeved Habat (Sephardic).

For boys, brit milah is held on the eighth day of his life (even if that falls on Shabbat or Yom Kippur). For girls, there is more flexibility for choosing the time of celebration:
The eighth day of life (this corresponds with the time for a boy's brit milah).
14 days after birth (in the Torah, a mother's ritual impurity after a daughter's birth lasted two weeks);
30 days after birth (based on an ancient belief that a child was only
viable after 30 days);
80 days after birth (the length of time that the Torah tells us a woman had to wait after birthing a girl to bring the sacrifices to the Temple).
Often the Simchat Bat will be held with family and friends at a synagogue or home. The ceremony itself is fairly open to new traditions. You can wrap the baby girl in a Tallit, light candles, have the baby girl sit in "Miriam's Chair," and celebrate kiddush for the occasion.

A suggested ceremonial service can be found here.

It is customary to serve refreshments after the Simchat Bat, and this is considered a seudat mitzvah, part of the mitzvah. Some parents might wish to make the Simchat Bat a more traditional ceremony, with various prayers and blessings recited with the festive meal. Often these prayers are modifications of the traditional prayers offered at a Brit Milah.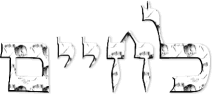 The Naming Ceremony

Most Jewish fathers name a baby girl the first Sabbath after she is born, generally during a Torah aliyah which the father recites in honor of the occasion (in some Sephardi communities the girl is only named at home since they believe that the mother and baby shouldn't leave the house for a month).