Similar Sounding Letters
In modern Hebrew phonetics, the following letters make similar sounds: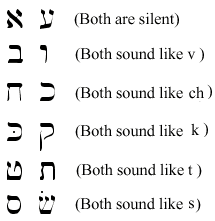 Note: These orthographical and phonetic differences are only difficult for new learners of Hebrew. The same problem exists when learning Arabic script, for example. However, once you have gained some proficiency reading Hebrew the differences between the letters will be obvious to you.